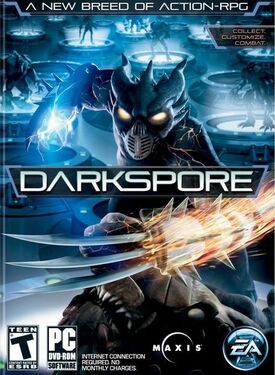 Darkspore is a video game in the original Darkspore universe that borrows the award-winning creature editor technology from the 2008 video game Spore. It is described as "a fast-paced, sci-fi Action-RPG in which the player battles across alien worlds to save the galaxy from the mutated forces of Darkspore." In addition to the creature editor, it features a unique squad-based mechanic, various multiplayer options, and a PvP arena. The game was released in North America on April 26, 2011 for Microsoft Windows, and in Europe on April 28, 2011.
Hero Editor
Edit
The Hero editor in Darkspore has been described as an enhanced version of the one found in Spore. There are thousands of parts to collect, enabling the customization of several aspects of the characters, including body parts, armor, weapons, facial features and coloration. The hero remains recognizable but at the same time unique.
Reception
Edit
Darkspore recieved a 7 out of 10 score on IGN and a 7.5 out of 10 score on Gamespot.
References
Edit
1. Darkspore overview from the official website
2. Darkspore Review, Darkspore PC Review- GameSpot.com
3. Darkspore Review - PC Review at IGN
Community content is available under
CC-BY-SA
unless otherwise noted.